Paul Gauguin Amenities
Les Gauguins & Les Gauguines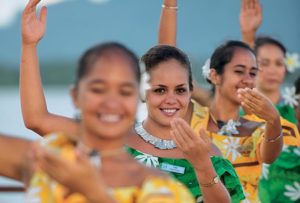 On every voyage of The Gauguin, we're accompanied by our own troupe of Tahitian hosts and entertainers that bring the spirit of Polynesia to life. Enjoy a retelling of ancestral legends through dance, delight in traditional songs onboard and on our private motu, and learn local handicrafts during hands-on demonstrations. Couples celebrating a honeymoon or anniversary can even attend a Polynesian blessing ceremony.
Le Grand Salon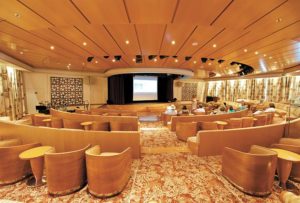 When the sun goes down at sea, Le Grand Salon comes alive with spectacular performances. Every night brings something different, whether it's Les Gauguins & Les Gauguines performing ote'a—a complex line dance accompanied by drums—live piano music, Broadway show tunes, or foot-tapping rock music. Return to our main lounge during the day for a game of table tennis or lecture from a roster of anthropologists, archeologists, and marine biologists, as well as visiting experts on other popular topics.
La Palette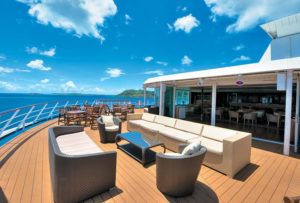 This versatile lounge offers morning snacks, serves as the backdrop for special events, hosts Polynesian activities led by Les Gauguines, and is the perfect place to grab a nightcap and dance under the stars to live music.
Le Casino and Piano Bar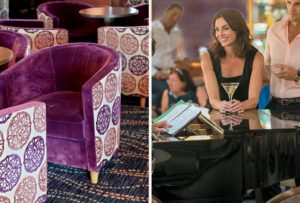 Try your luck in Le Casino, which features slot machines, blackjack, and roulette, and is open every evening, except where prohibited by port regulations. We also invite you to grab a drink at the Piano Bar and enjoy nightly piano entertainment.
Pool and Pool Bar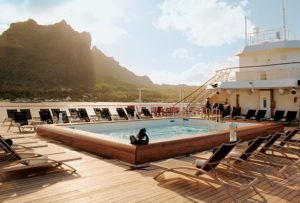 Soak in the South Pacific sunshine with a day spent lounging by our outdoor pool. Cool off in the refreshing water, grab a cocktail from the adjacent Pool Bar, or take in the scenery from a comfortable lounge chair.
Local Entertainment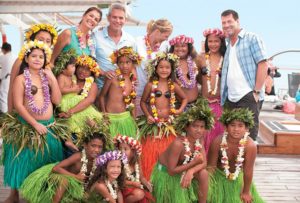 In addition to Les Gauguins & Les Gauguines, on every voyage we invite local performers onboard to entertain you. Don't miss an evening spent with local group Mamas and Papas, whose dynamic performance of Polynesian dance and singing is a perennial guest favorite.
Crew Show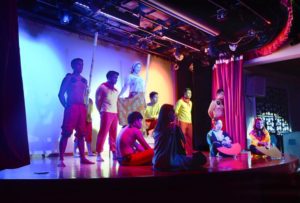 The crew members onboard The Gauguin are certainly expert at providing first-class service to our guests, but they also boast many other talents that we're proud to showcase in our crew show. Every voyage offers something different, but you're always guaranteed a night of amazing entertainment, much of which showcases the unique cultures of our crew members' home countries.
La Boutique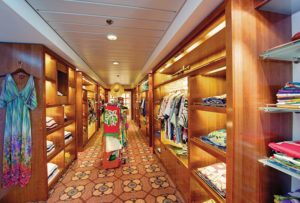 Just steps from your stateroom, find the perfect memento of your South Pacific cruise, like genuine Tahitian black pearl jewelry exclusively designed for Paul Gauguin Cruises, Tahitian vanilla, local arts and handicrafts, souvenir apparel, and more. It's also the perfect place to pick up any necessary sundries or toiletries, like swimwear, beach attire, sunscreen, and batteries.
Photo Shop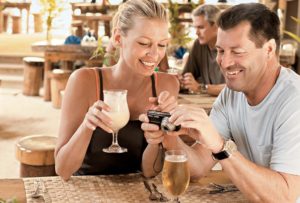 Ensure that your vacation memories last a lifetime with services from Paul Gauguin Cruises' Photo Shop. A dedicated photographer accompanies us throughout our cruise, giving you the opportunity to take home professional photos of significant events, like embarkation, the Captain's Welcome Reception and Tahitian Night. Family portraits and casual photo-ops are also available. The Photo Shop is also stocked with everything you need to take your own photos, including single-use cameras, digital cameras, photo accessories, and media cards.
Watersports Marina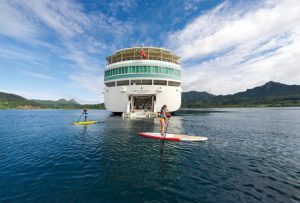 Our specially designed watersports platform turns the ship into your headquarters for all kinds of adventures on the water. It's as easy as descending to sea level and hopping aboard a windsurfer or paddleboard or launching a kayak.
Our watersports equipment is also available when we call upon our private beaches. Plus, if you plan on snorkeling in multiple ports, you're welcome to check out snorkeling gear from the marina for the duration of your cruise.
The watersports marina is available in select ports and subject to weather conditions and local restrictions. Swimming from the watersports marina is prohibited.​
SCUBA Diving Excursions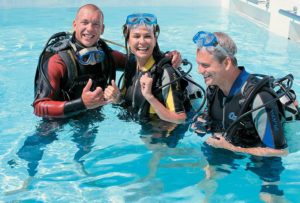 If you've always wanted to try SCUBA diving, your cruise on The Gauguin is the perfect opportunity. Our onboard marina offers diving excursions for all experience levels, and we're the only luxury ship in French Polynesia to offer PADI certification classes for novices.
Deep Nature Spa by Algotherm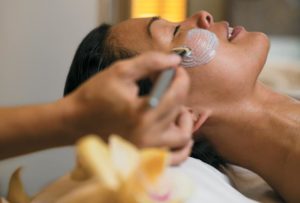 With its unrivaled approach to beauty and rejuvenation, the spa onboard The Gauguin combines the art of gentle pampering with services that are uniquely tailored to the needs and wishes of each individual.
Our spa offers an extensive range of services, enveloped in an atmosphere that is both tranquil and luxurious. Shipboard treatments include skin care therapies, skin exfoliation, massage, reflexology, aromatherapy, body wraps, facials, beauty treatments, nail services, and hair styling. We are also happy to offer relaxing overwater massages during the day you'll spend on Motu Mahana, our private South Pacific paradise.
Fitness Center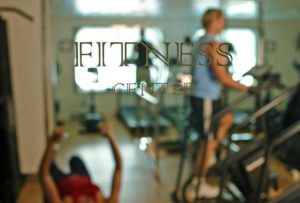 Our convenient fitness center is outfitted with the latest fitness equipment, including Lifecycles, treadmills, stair climbers, and weight machines. Other onboard fitness opportunities include a morning mile-long walk around decks 8 and 9 and a sunrise Polynesian-inspired Zumba class, both hosted by Les Gauguines.